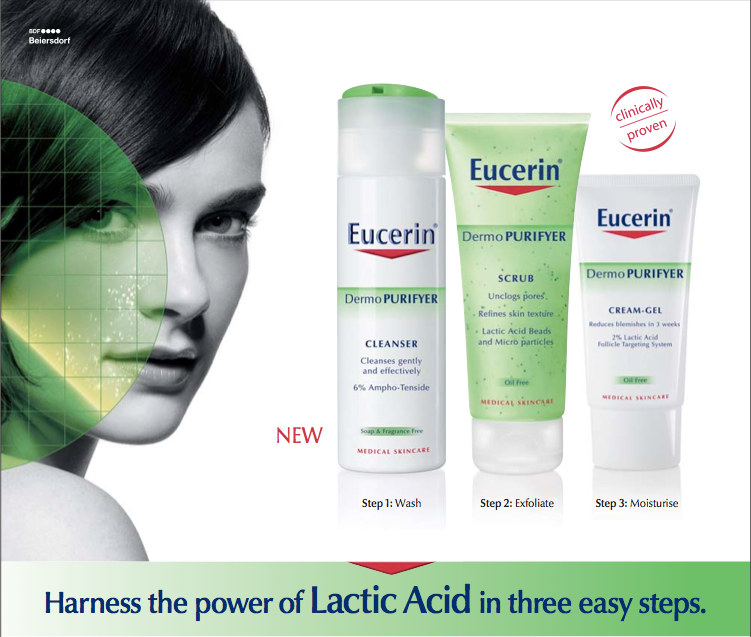 Known previously as the Impure Skin Range, the mild yet effective
Eucerin® DermoPURIFYER
range has an optimal 2% Lactic Acid formulation that gets to the root of common facial skin problems found in men, women and teenagers.
How does Lactic Acid efficiently and gently eliminate acne?


It targets only specific clogged pores where acne originates


It gently calms inflamed acne and unblocks clogged pores without drying out the skin


It fights acne-causing bacteria and stops the formation of new acne


It promises a healthy, clearer complexion in three weeks
Eucerin® DermoPURIFYER
range is oil-free, has anti-bacterial properties, and is non-comedogenic to prevent skin irritation and is compatible with any acne medication. Highly recommended by dermatologists, the range can also be used as a preventative measure against common skin problems.
Eucerin® DermoPURIFYER
products easily complement your existing skincare regime but are best used in its entirety for optimal results. The collection now comes in a refreshing cool green packaging and sold in all pharmacies, hospital institutions and leading aesthetic clinic.

Eucerin® DermoPURIFYER Cleanser (200ml)
The light oil-free cleanser is clinically proven to treat acne problems effectively and gently by reducing excess sebum while it deeply cleanses. Recommended retail price: $21.20
Like it for being fragrance-free, soap free and oil free!!! Cleanser comes out clear and light weight. I didnt even realised that theres cleanser on my hand while trying to figure out how to pour the cleanser out. :x The texture is quite watery so it glides onto the skin very smoothly. The plus point is that it does not leave any tight feeling on the skin after usage.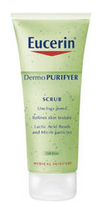 Eucerin® DermoPURIFYER Scrub (100ml)
This mild daily scrub comes with Lactic acid beads for gentle, effective deep cleansing that removes blackheads and refines pores. Recommended retail price: $18.60
Like the cleanser, it is soap free and oil free. Unlike other scrubs, this product is really thick with microbeads (little green exfoliating beads), yet gentle to the skin. When u lather up the product, these little green beads dissolve together with the rubbing. You can feel that it cleanses the face really well after using it. As much as it being gentle, i would recommend that you use it 2-3 times per week, and not daily.
Eucerin® DermoPURIFYER Crème Gel (50ml)
Contrary to popular belief, moisturizing oily skin is key in regulating excess sebum production in the skin. The water-based crème gel helps reduces acne within three weeks while keeping skin hydrated and oil-free. Recommended retail price: $25.70
I Love this product the max. It has a refreshing scent and keep my face moisturized. Moisturized but not greasy. It is oil free and is easily absorbed by the skin.
The
DermoPURIFYER Crème Gel
designed to hydrate the skin and regulate excess sebum formation. Contrary to popular belief, oily skin should be moisturised regularly. When skin is properly hydrated, it is less likely to release extra sebum (oil) that contributes to clogged pores resulting in acne or pimple breakouts. By regularly applying the water-based, oil-free crème gel, skin feels refreshed, hydrated and acne free.
Your chance to try the products are here..
http://www.thesamplestore.sg/widgets/big/65365/2288